Suzuki Samurai Page Of Fame
These rigs aren't necessarily the biggest and baddest Samurai's, but these vehicles and their owners have done a lot to bring recognition to the Suzuki Samurai and its capability as an off-road vehicle.
This list isn't in any specific order.
Tim Hardy:
In 1995, Tim Hardy wowed judges and competitors alike with his '87 Samurai and matching trailer during the Top Truck Challenge.  Tim's Samurai made events like the Tank Trap and Mud Pit look easy, even with a stock motor and a strange amalgam of Sidekick, Ford, and Subaru (!) drivetrain parts.
As far as Samurai builders go, it's tough to top Tim. Although the motor remains stock, Tim built his own 4.6:1 Rock Lobster transfer case and unique 3:1 underdrive that combined with the 5.12:1 axle gears to give him 90:1 gearing. Now, to the naked eye, the axles on Tim's ride seem like stock Suzi parts. However, in an effort to create the ultimate in durability, Tim used everything from Mustang 5.0 axleshafts and Subaru Birfields to (and we're not making this up) his own cable locker for both diffs to build his axles. At the Engineering judging, the TTC judges marveled at Tim's front-wheel center caps that locked his hubs with one twist. They're also waterproof. To get an idea of how meticulous Tim is with his buildups, consider that his front-axle skidplate is 53 pieces of aluminum welded together and polished on both sides. A spring-over using a combination of Samurai springs and Nitro Cell shocks provide elevation for the 35-inch Yoko Mud Diggers. Just in case you're wondering, Tim towed that trailer (equipped with hydraulic disc brakes) through every event at TTC that year and ended up coming in Second Place overall.
Tim as been a staple of TTC ever since and was Head Judge for 2005.
Tim also participated in the 2006 4Wheel and Off-Road Magazine Ultimate Adventure.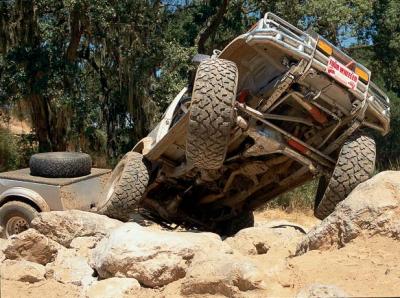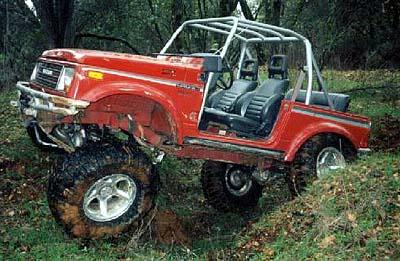 Glenn Wakefield: (Zukinni)
Owner – Rocky Road Outfitters
Glenn built this Samurai from the frame up in approximately one month for the 1997 Four Wheeler Top Truck Challenge. It's officially registered as an 1988 Samurai but has a 1986 Body. Glenn managed to finish 4th in the TTC beating out a Kaiser, Blazer, Hummer, 51′ Panel-side and Chevy K10.
Check out his page HERE or visit www.rocky-road.com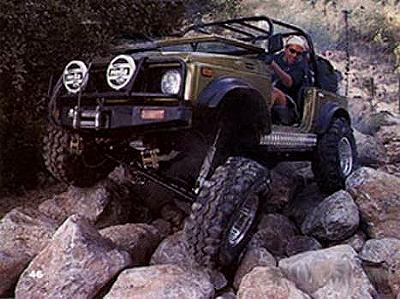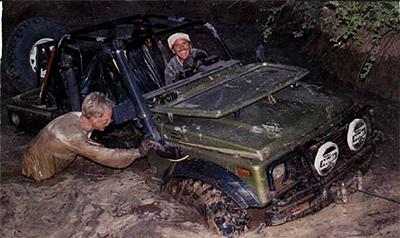 Brent Bradshaw
Owner – Trail Tough Products
In the early 1990's, Brent did the "Rock-Crawling Stump-Jumping Warrior" (white Samurai below),  which was a ground-up project featured by "Truckworld Online",  as well as many other highly modified customer projects.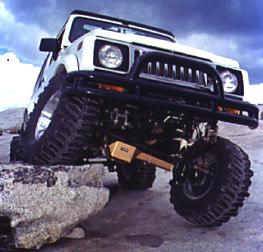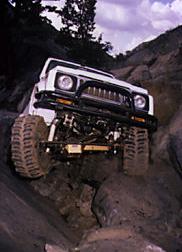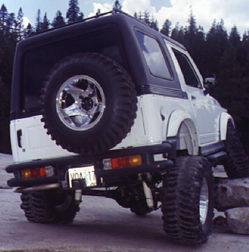 Brent hand fabricate his Samurai in a very unique way–he literally picked it piece by piece from a junkyard. It has all the best of everything. Every bolt, hinge, piece of rubber and the body, was hand picked from the best of a bunch of salvaged "Sammies."
The frame and axles received a fresh coat of gloss black enamel with Old man Emu springs and bushings on top. Con-ferr shackles, Lock-Right lockers front and rear, and a set of the uncommonly publicized Suzuki OEM 4.30.1 gears (available only in the 1994 2-door 16V (GEO Tracker California car). These gears are much stronger with a ten tooth pinion, and is an excellent ratio for all practical purposes when combined with the "Hawk-Lobster" transfer case.
Custom shock mounts and bump stops accommodate 26.5-inch Doetch Tech 8000 Series shocks and control the 31×12.50 Interco Swamper Boggers and Superior Star Tec wheels quite nicely. For ease of handling, he installed a power steering actuator from the Suzuki Sidekick, along with the pump from a Suzuki Swift, and a modified three-inch dropped pitman arm and tie rod.
Installing the Suzuki Swift 16- valve twin cam, fuel injected powerplant. This required a custom header and slight but careful modification of the firewall in order to accommodate the distributor and maintain the heater.
The Swift's head was ported and polished for an additional 30-horsepower. The cams were re-ground by Brent and he also played with the throttle-body. Brent says the motor pulls real hard on the top end. He utilized a Centerforce dual-friction clutch from Calmini, a fresh Samurai 5-speed with a later model 5th gear, and a "Hawk-Lobster" transfer case to achieve the final desired gearing.
In the final assembly process, Brent utilized a chromed Suzuki SJ/4 10 grill, fold down windshield hardware, the early Samurai dash (easier to clean), a Suzuki Sidekick tilt steering column, Suzuki Swift GTI seats and steering wheel, a Smittybilt front bumper and nerf bars. Brent also designed a custom rear bumper and winch mounts to match, along with a winch mount behind the seat to store the Warn 6000 lb. winch and Hi-Lift jack neatly away.
Brent went on to create the "Crustacean" Samurai rock buggy that has eight tires and the ability to crawl sideways over just about any terrain. So, how much of this rig is actually Suzuki? A bunch! In addition to a Samurai tub, most of the drivetrain and running gear is Suzuki. With a focus on stealth, stability, and reliability, Bradshaw's vision was to design the ultimate, lightweight, high-tech rock buggy. Working with Trail Tough tech engineer Randy Rodgers, they took a bundle of 1-5/8-inch, 0.072 tubing and an arsenal of Suzuki components to created this ornery-looking but highly functional machine.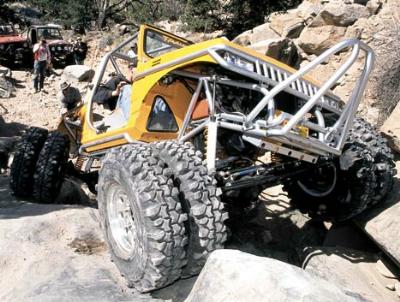 At the heart of this exoskeletal creation is a 1.6L, 16-valve, SOHC multiport fuel-injected Sidekick motor. For reliability, it was left completely stock with the exception of a K&N air filter. Spent gases are expelled via a 2-inch exhaust system and a DynoMax/MagnaFlow muffler from Mike's Muffler Advantage in Ashland, Oregon. To achieve more responsive throttle control, a Suzuki Swift GT flywheel, pressure plate, and Centerforce clutch disk were installed, reducing rotating mass by 7 pounds. For some serious 'crawling, the cogs of an OEM five-speed couple the featherweight mill to a stock Sami transfer case, which transfers power fore and aft via a set of Australian 6.129:1 Rockhopper gears. A Trail Tough combination skidplate/crossmember supports the entire assembly.
Checking out the nearly identical front and rear axles is where things get interesting. The axles are both Big Suz-Anas, an appropriate name for a hybrid axle that incorporates Suzuki Sidekick centersections and Dana 44 outer knuckles. The two are joined by 2-1/2-inch DOM, 3/16-inch tubing. The diffs are fitted with ARB air lockers, Sidekick 5.63:1 ring-and-pinions, and 27-spline Dana 35 side couplers. Warn chrome-moly axles were re-splined to match. Wrapped around Samurai rotors, hubs, and spindles are Suzuki Swift cable E-brake calipers that can be operated independently to control brake steering. Tires are 34×9.50 TSL Super Swampers on 589 Eagle wheels.
The fully hydraulic steering is motivated by an AGR Saginaw pump and controlled by an Eaton/Charlynn valving system. The steering fluid is dispensed to dual front and rear AGR rams, which are mounted to Trail Tough Hi-Steer centerlinks.
Steering modes are selected from a panel of dash-mounted switches and include circle steering, side (crabby) steering, and selectable lock to allowing front or rear steering only. Another innovative feature is a pneumatically controlled self-centering device, which precisely and automatically locks the rear axle for safely getting to the trail and back. To allow front-wheel drive only, a toggle controlled, Trail Tough pneumatic rear driveline disconnect sits just aft of the transfer case.
A cleanly engineered front and rear three-link system with a Johnny Jointstyle upper wishbone attaches these goodies to the frame. Levitation is obtained by a set of 185-pound AFCO coil springs and Doetsch Tech 8000 pre-runner shocks. Approach and departure angles have been nearly eliminated by stretching the wheelbase 12 inches.
Check Out: www.trailtough.com
Eddie Casanueva and Tom Kingston
Owners – Spidertrax Off-Road
These off-road enthusiasts started Spidertrax Off-Road in 2001 while still in college. The partners met while attending the New Jersey Institute of Technology. Casanueva was working in a machine shop when his path crossed with Kingston in 1999; Eddie was 22 and Tom just 20 years old. Kingston's background in mechanical engineering was a perfect fit with Casanueva's innate machining skills and the two struck up a friendship that led them off the beaten path to many off-road adventures.
Casanueva and Kingston were quick to put their mechanical talents to work solving weak links inherent to the Samurai when pushed beyond factory design limits. The product that really put their startup company on the map was the Spidertrax Birfield Ring. When front lockers are installed in the little Suzuki, the OE birfield joint is prone to catastrophic failure. Spidertrax solved this with heat-treated chromoly rings that press-fit over the OEM birfield joints.
Enthralled by the exploding competition rock crawling scene, Spidertrax expanded its business as a supplier of original products for chassis builders, launching a product line with items such as rod ends, tabs, tubing and steering components.
These guys decided to pull out all the stops to create a 4×4 that could go anywhere and compete with any vehicle, even the high-end rock buggies that are turning up around the country. The result was the Arachnid.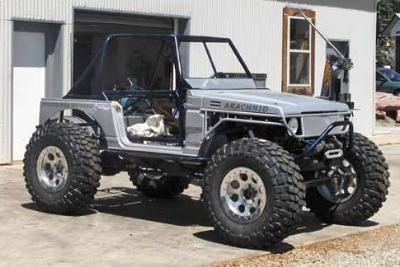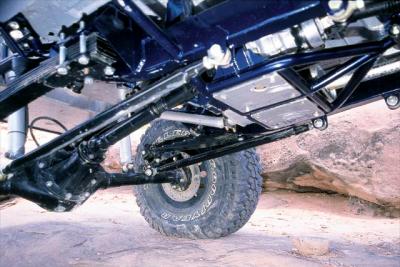 Arachnid started out as a clean '94 Suzuki Samurai. Spidertrax immediately stripped the vehicle to the bare frame and went to work. They wanted to use most of the Samurai body, so 70 percent of the stock frame was retained. The chassis was separated into two parts: upper and lower sections. The upper section is removable, which allows easy access to the lower section. The lower chassis boasts integrated skidplating for greatly reduced weight and appealing simplicity.
Eddie and Tom wanted to use material that was lightweight yet strong enough for the stresses that would be placed on the vehicle. Toward this end, 1-5/8×0.120-inch wall tubing was used for the cage; 1-1/4×0.120-inch wall tubing was used for selected chassis members; and 1×0.065-inch wall tubing was used for the front clip. The bellypan/skidplate is made of 1-1/4×0.120-inch wall tubing and is protected by 7075T6 aluminum panels. It attaches with three bushing-style mounts.
To further aid servicing and repairs, the front clip is easily removed with four screws, and nothing is mounted to the front clip itself. The sheetmetal body provides no structural support. In fact, the only vehicle parts attached to the body are the clutch, the brake, the accelerator pedals, and the battery. The sheetmetal was left for appearances only. In keeping with this theme, the rear fenders are easily removed for access or replacement.
The stock Suzuki 1300 EFI four-cylinder, as well as the stock five-speed transmission, were retained. A GRS II transfer case from Petroworks was chosen because of its excellent 4.89:1 Low-range ratio. The only underhood modifications were the additions of a K&N air filter and headers to help the squirrels inhale and exhale more easily when they're at work in the little mill.
The rearend is a fully trussed Spidertrax full-floater axle that is 3 inches wider than stock. The third member houses 5.125:1 gears and a Detroit EZ Locker. The frontend also uses 5.125:1 gears, a Detroit EZ Locker, and Spidertrax Birfield rings for increased strength. And for optimum pinion and caster alignment, the knuckles were cut, turned, and rewelded. Arachnid runs four-wheel disc brakes with cross-drilled rotors. And there is an in-cab proportioning valve and front-line lock to boot. A Spidertrax emergency brake kit was also installed. The Spidertrax E-brake is a single disc that's driveline-mounted and supplies more than 30 percent greater stopping power than the stock E-brake. It also works just as well in Reverse.
In back, Arachnid sports a modified Spidertrax quarter-elliptical suspension. The axle is located 1-1/2 inches back from the stock location, and the lower links are 1-1/2 inches in diameter. Rancho RS 9012 shocks perform damping duties. The rear suspension allows an incredible amount of articulation, yet still provides excellent control, especially on steep climbs where most super-articulators fail. Up front, there are 12-inch static, 3-1/2-inch OD, 150-pound coils, and a four-link suspension with a Panhard bar. The front suspension is soon to be available over-the-counter as a Spidertrax kit.
To turn the 33×12.50R15LT Goodyear Wrangler MTRs on the 15×10-inch steel bead locks, Spidertrax installed a Suzuki Sidekick power steering box with a Saginaw pump and ram assist. Custom linkages and a crossover steering arm keep everything hooked up and pointed in the direction Enelio wants to go. The stock Samurai steering column and cheesy plastic cover were discarded in favor of a chrome-moly steering shaft with a lightweight, removable steering wheel.Spidertrax installed driver and passenger Lexan windows in the firewall for visibility. The rear floor of the body was removed to make room for a custom 12-gallon aluminum fuel cell and an aluminum toolbox. Each of the 6061 aluminum dash panels is removable, with each panel having its own electrical connector for easy service. The Auto Meter Ultralight gauges include tach, oil temp, water temp, voltmeter, and clock. The controls for the Warn M6000 winch are also dashboard-mounted. The Warn M6000 is the sleeper deal of the year.
It has a 48.5-fpm line speed under no load and still pulls at a whopping 10 fpm at full load. That's fast. The 6,000-pound winch has more than enough power to pull the Samurai up anything. There are four exterior rock lights, interior floor lighting, Hella driving lights, and LED taillights to illuminate the night. The entire undercarriage of Arachnid was powdercoated, and the body was painted bright silver. To shield the body from harm, Spidertrax angled rocker panels were installed to protect Arachnid's sides.
Roughly five years after it's original build, the Arachnid got updated. The differentials were replaced with Spidertrax Spider 9 axles, which take the fabricated housing idea several steps further than the Suzuki housings. The Spider 9s have Spidertrax- fabricated knuckles and proprietary axleshafts that allow an amazing 60 degrees of turning. Spidertrax unit bearings and drive flanges are used in conjunction with Wilwood disc brakes that fit under 17-inch Trailready beadlocked rims wrapped in sticky 37-inch bfgoodrich Krawler kxs. The tires are turned by Yukon 6.5:1 gears and ARB Air Lockers in the Strange nodular third members. In order to accommodate the huge range of motion from the axles, the idekick power steering was replaced with a PSC orbital valve and 2-1/4×1-1/2-inch double-ended ram for one-finger turning in the rocks.
The previous set of axles was suspended by front coil springs and rear quarter-elliptical springs, with low-dollar shocks and links locating both ends. "The hardest part was not changing everything," states Casanueva. "Technology in this industry, and our personal skills and preferences, have progressed so far in the past five years."
Exercising restraint, the rear quarter- elliptical suspension and 40-inch long, 1-3/4×1/4-inch-wall links were preserved, and the rear shocks were replaced with rebuildable Fox Shox, while the front springs and shocks were replaced with Fox air shocks. The suspension geometry was changed to be more neutral when the air shocks were added, and the front links were lengthened, stretching the wheelbase from 87 inches to a more stable 94 inches.
Check Out: www.spidertrax.com