History Of The Suzuki Sidekick 1989-1998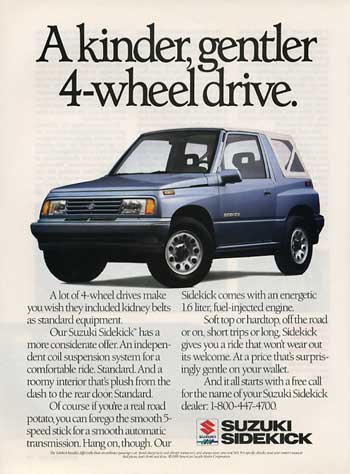 Suzuki of America Automotive Corporation launched the compact Sidekick four-wheel-drive sport-utility vehicle in 1989. The Sidekick was available as a 2-door convertible or hardtop, in 1.3 liter JA and more powerful 4-wheel-drive JX & JLX trims. An 80 hp 1.6 liter, 8-valve, 4-cylinder engine was available on the JX & JLX.
A little larger than the Samurai, it made use of independent front suspension, coil-sprung rear suspension, an available automatic transmission, and a much nicer interior. With little to no sacrifice in off-road abilities, this new truck enhanced Suzuki's reputation as a builder of serious 4-wheel-drives.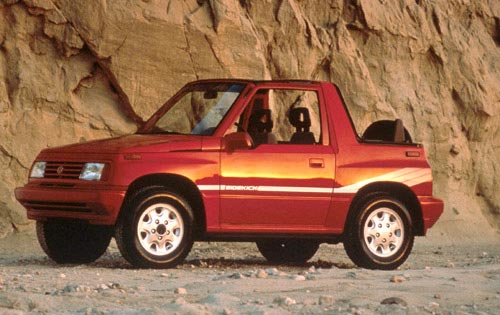 1990 brought the deletion of the upscale JLX version. 
In 1991, a 4-door Sidekick with a lengthened wheelbase was introduced and the following year a 95 hp, 1.6 liter, 16-valve engine was introduced. 1991 also brought the introduction of rear antilock brakes.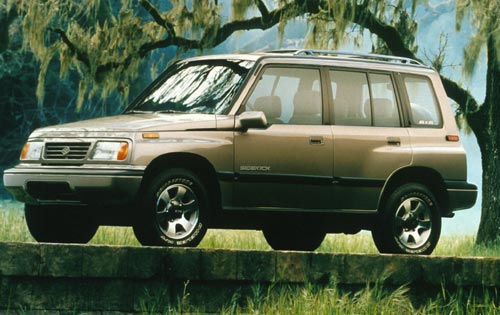 1995 was the introduction for the decidedly more upscale and sporty Sidekick Sport. Available in the U.S. with an all-new 1.8-liter, 120 horsepower DOHC inline-4, the new engine begged for some unique bodywork. Wide 16-inch wheels were offset by tough-looking fender flares, a bold grille and hood, 2-tone paint, and a luxuriously restyled interior with dual air bags were all unavailable with the standard engine.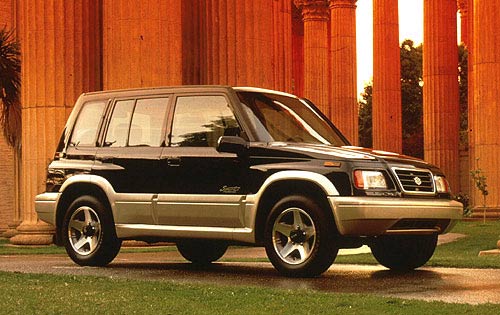 In 1999 the Sidekick name was dropped in North America, using the Vitara name instead. The Vitara was sold in the U.S until 2004.