The 2009 Suzuki Equator 4×4 Test Drive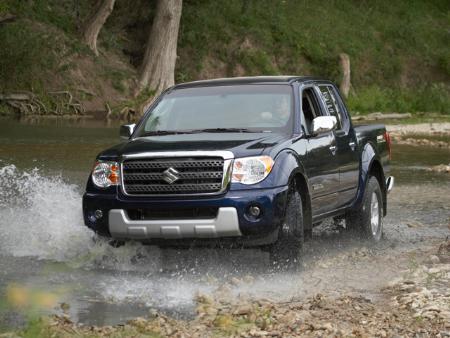 Suzuki has chosen a rather dubious time to enter the pickup truck market with the 2009 Equator. As you are aware, trucks and SUV sales have sharply decreased from a few years ago due to the economy and fuel prices, and small cars like the ones that have historically filled Suzuki showrooms are all the rage. So, why would the Japanese automaker even bother with a mid-sized pickup truck based on the Nissan Frontier? That's a good question.
Based closely on the Nissan Frontier, the chance to build the Equator came Suzuki's way via a product-sharing deal with the larger Japanese company. Nissan was looking for a low-pressure way to step up its presence in the Kei market in Japan, a type of vehicle Suzuki has traditionally built very well, while Suzuki was interested in a pickup it could sell to the legions of North Americans who already buy its marine engined vehicles, motorcycles, and ATVs. Suzuki is gambling that the very loyal buyers of its recreational products – already truck owners more often than not – will be happy to have the option of a Suzuki pickup with which to haul their assorted gear — whether that pickup has Nissan bones or not.
Anyone familiar with the inside guts of the latest Nissan Frontier is likely to feel right at home inside the Suzuki Equator. An easy-to-read gauge cluster sits behind a familiar Nissan-spec steering wheel and switchgear. While we generally aren't in favor of this kind of product-sharing, at least the truck is based on a credible and successful model and it's not badge engineering within the same automaker. Suzuki makes no bones about the fact that the Equator is based on a competing model, and in fact claims to have hand-picked the Frontier specifically for its off-road worthiness and overall truck-ability.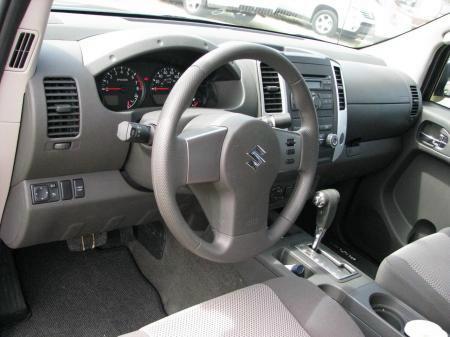 There are few differences between the Equator and Frontier, which are manufactured side by side in Nissan's plant in Smyrna, Tennessee. Both come with a choice of a 152 horsepower  2.5-liter four (roughly 19/23 mpg rating) or 261 horsepower 4.0-liter V-6 (roughly 15/20 mpg rating); five-speed manual or automatic transmissions (the Frontier adds the option of a six-speed manual); two-wheel drive or four-wheel drive with VDC, HDC, and Hill Start Assist; short or long bed; and extended cab or crew cab. Interior and exterior dimensions are nearly identical, but presumably because of the different front fascia, the Suzuki is about an inch longer overall. The Equator provides the same towing and payload capacity as the Frontier, so you can lug up to 6500 pounds of adventure gear.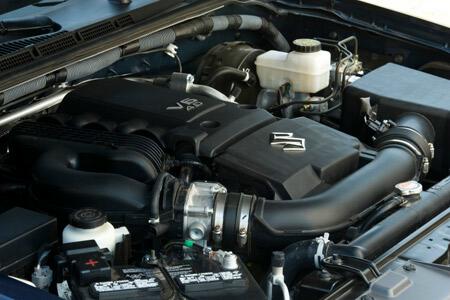 The RMZ-4 Equator, named for the championship winning Suzuki RM-Z dirt bikes, proves capable of negotiating the off-road terrain. With a proper low range, an electric rear locking differential, hardy Dana 44 axles, full skidplating, BFGoodrich Rugged Trail tires, and Bilstein shocks, the Equator shows itself as being a capable off-roader.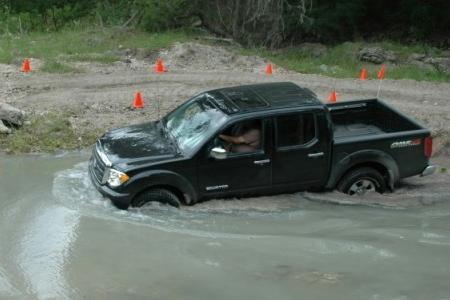 The RMZ-4 also offers up a smattering of unique appointments, including chrome door handles and side mirrors, plus a revised instrument cluster and special red stitching inside. The hard-wearing cloth interior and option of rubber floor mats may also speak to the wild and dirty pretensions of the truck, but all in all, it's a rather civilized place to spend time.
the Equator not only looks like the Frontier, but drives like it, too. The V-6's power delivery is excellent, but the engine is somewhat crude and noisy. The Equator's rough ride could be helped by filling the bed with cargo, but there's nothing that can be done about its 43.6-foot turning circle-that just about guarantees three-point turns where U-turns would suffice in other trucks. The Equator's truck bed benefits from Nissan's Utili-track bedrail system and spray-on bedliner.
As a smaller automaker, Suzuki doesn't need high-volume sales to be a success. Gas prices have scared off a lot of would-be truck buyers, but if just enough people who once looked at full-size pickups turn to smaller models, Suzuki could benefit. This one provides towing capacity, interior room, and off-road capability, all with a seven-year/100,000-mile transferable powertrain warranty, which is better than that of the Frontier.
Vehicle Specifications:
| | | | |
| --- | --- | --- | --- |
| Specification | Suzuki Equator ext. cab short bed | Suzuki Equator crew cab short bed | Suzuki Equator crew cab long bed |
| Wheelbase, in. | 125.9 | 125.9 | 139.9 |
| Overall Length, in. | 206.6 | 206.6 | 220.1 |
| Overall Width, in. | 72.8 | 72.8 | 72.8 |
| Overall Height, in. | 68.7 | 70.1 | 70.1 |
| Curb Weight, lbs. | 3686 | 4248 | 4303 |
| Cargo Volume, cu. ft. | — | — | — |
| Standard Payload, lbs. | 1461 | 1471 | 1423 |
| Fuel Capacity, gals. | 21.1 | 21.1 | 21.1 |
| Seating Capacity | 5 | 5 | 5 |
| Front Head Room, in. | 39.7 | 40.0 | 40.0 |
| Max. Front Leg Room, in. | 42.4 | 42.4 | 42.4 |
| Rear Head Room, in. | 38.3 | 38.7 | 38.7 |
| Max. Rear Leg Room, in. | 25.4 | 33.6 | 33.6 |
 Engines
dohc I4
dohc V6

Size, liters/cu. in.

2.5 /152

4.0 /241

Horsepower @ rpm.

152 @ 5200

261 @ 5600

Torque (lb-ft) @ rpm.

171 @ 4400

281 @ 4000

Availability

Standard

Standard

 

 

5-speed manual

19/23

–/–

5-speed automatic

17/22

15/20

dohc = dual overhead camshaft