Buggy Leaf 3/4 Elliptical Suspension
What is a Buggy Leaf  3/4 Elliptical Suspension?
The term buggy leaf and 3/4 elliptical suspension both refer to a leaf spring that has been cut in half and attached to the bottom of the frame. The cut end is attached under the frame while the bushing end is attached to the rear leaf with a shackle.  See photo below.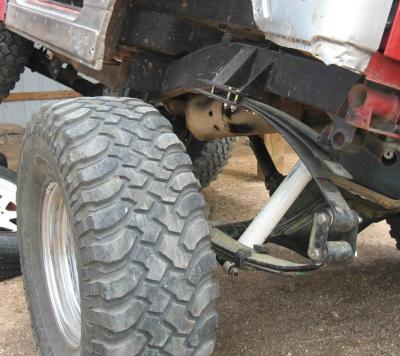 Although this setup offers a great deal of flex, it's not the best way to get it. This type of setup can create a lot of axle wrap. We've also heard of people trying to climb steep ledges with this type of setup only to have problems gaining traction and the buggy leaf banging off the frame as it bounced.
Think of it like this…..
When you see a rig with rear leafs, coils, air shocks, etc, you're seeing something that's applying a constant downward force on the wheel. With a buggy leaf  3/4 elliptical setup, the wheel isn't being pushed down once the spring drops away from the frame. It's dropping simply from the weight of the axle/wheel/tire. It no longer has that downward force to help it get traction. In this setup, a heavier axle/wheel/tire is going to do better than a light one. Having more than just a single leaf in your 3/4 elliptical may help too.
Some people like to have the option of locking the buggy leaf in place so they can drive it on the road. The photo below is an example of the buggy leaf being locked in place against the frame at the rear shackle.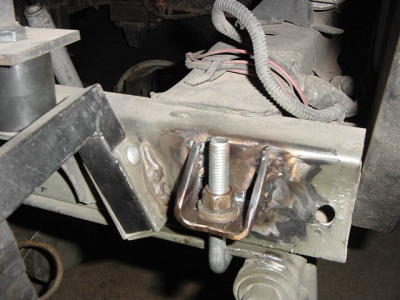 Have more photos or feedback on a buggy leaf  3/4 elliptical suspension on your Suzuki? Use the 'Contact Us' button below to contact us.