Geo Tracker / Sidekick and Ford Ranger Coil Spring Ratings
You may have already saw the page on Lifting The Front Of Your Geo Tracker With Ford Explorer Coil Springs. This page is a supplement to offer more information.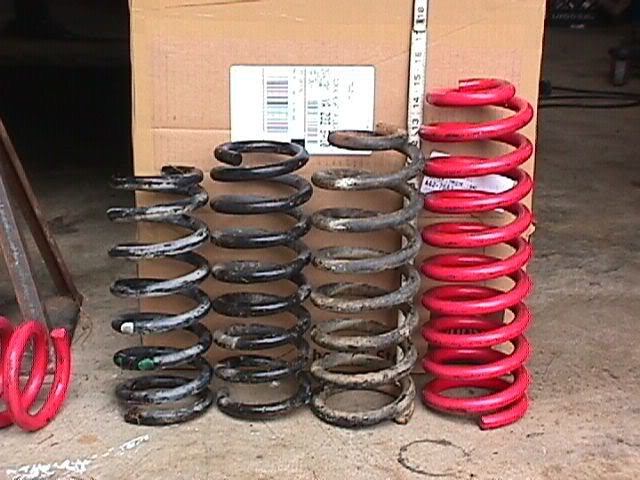 (Left To Right: Stock 1994 Sidekick/Tracker / Stock 2000 Grand Vitara V-6 4-dr 2wd / Stock Ford Ranger 4wd / 2-Inch Ford Explorer/Extended Cab Ranger)
You can see that the red 2-inch lift coil spring for the Ford Explorer/  Extended Cab Ford Ranger is about 4-inches longer than the stock Tracker spring. That spring is a Skyjacker 132X. Skyjacker actually offers (2) different 2-inch lift coil springs for the Ford Ranger. 
The SKY132 is a 1.5″-2″ leveling coil for a 1983-1997 Ford Ranger (2WD or 4WD) regular cab (except 4.0L V-6), and a 1984-1990 Ford Bronco II.
The 132X is a 1.5″-2″ leveling coil for a1983-1997 extended cab Ford Ranger, a standard cab with a 4.0L V-6, or a 1990-1994 Ford Explorer.
If you get a set of these coils, you should probably go for the ones off of a standard cab (non 4.0L) Ford Ranger or Bronco II. The extended cab Ford Ranger and Ford Explorer springs will have a stiffer spring rate.
Spring Rate Comparisons:
Geo Tracker / Sidekick 2dr Convertible – 452.8 PPI Front 156.5 PPI Rear
Geo Tracker / Sidekick 4-dr  – 508.7PPI Front 177.9 PPI Rear
Ford Ranger 4wd front coils – 500 PPI
How Much Lift Should I Expect On My Geo Tracker:
Grand Vitara V-6 4-Door Coil Spring = 1-Inch of lift
Stock Ford Ranger / Bronco II / Explorer = 2-Inches of lift
2-Inch Ford Ranger / Bronco II / Explorer Leveling Springs = 4-Inches of lift