Suzuki Equator Suspension & Body Lift Kits
Here are the known Suzuki Equator kits that are available:
Autospring P/N SU250 – 2009-2011 Suzuki Equator:
Autospring is now offering a 2.5-inch leveling kit for the 2009-2011 Suzuki Equator. They are best known for their F-150 applications. 
The kits come complete with:
(2) Lift/Leveling spacers

Grade 8.8 zinc plated hardware

(2) upper control arm bump stops

Complete 4 bolt cam adjust kit

(2) Rear 1-1/2″ lift blocks

(4) Rear U-bolts with nuts

Easy to follow installation instructions
Want to install those bigger tires?? Now you can…… We designed this kit with strength and ease of install in mind. We use the highest quality materials, including: Zinc plated hardware and Nylock nuts. Our front spacers are fabricated from heavy duty 1/4″ CNC LASER cut U.S. steel and 1/4″ thick wall D.O.M tubing. These babies won`t break!
NO STRUT DISASSEMBLY REQUIRED. Our Steel spacer simply bolts on top of your existing strut. 
Click HERE for more information and to order.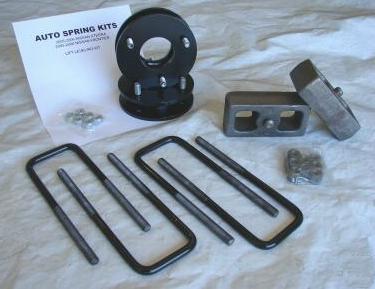 (Alignment cams and bump stops included but not shown)
Readylift P/N 69-4510 – 2009-2011 Suzuki Equator:
The new Suzuki Equator is sure to win the hearts and minds of not only truck enthusiasts, but truck enthusiasts who are loyal to Suzuki motorcycles. Based nearly entirely on the Nissan Frontier platform, the Suzuki has a identifiable appearance that is primed for the lifted stance that a ReadyLift 69-4510 SST Lift Kit can provide. Our 2.5″ front and 1.5″ rear lift kit for the 2009-2011 Suzuki Equator platform will allow for the installation of up to 33″ tall tires, perfect for the dirt bike enthusiast who will be hauling his ride into off road terrain. When not treading on the trails, a lifted Equator has an aggressive look while providing the owner with a commanding view of the road. And the best part is that our suspension systems maintain your factory ride – Guaranteed!
The 69-4510 SST Lift Kit includes: two 2.5″ Strut Extensions, a 1.5″ rear shackle kit and a special alignment cam kit that allows your alignment specialist to put the alignment right back stock. The kit also includes bump stops designed to mount to the upper control arm to prevent over-extension of the front suspension.
265/75-16 on stock rim requires no modifications.
285/75-16 on stock rims needs minor modifications in order to fit.
Click HERE for more information.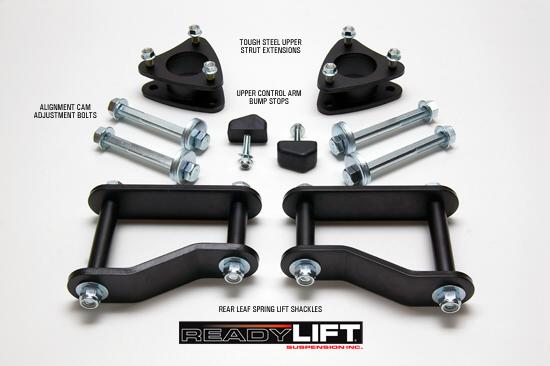 Truxxx P/N 705060 – 2009-2011 Suzuki Equator:
The Truxxx Lift and Level Kit for the 2005-2007 Nissan Frontier 4×2/4×4 will allow you to raise your vehicle 3″ in the front and 1″ in the rear. This kit includes heavy duty steel strut spacers in the front and 1″ blocks and u-bolts in the rear.
This lift is ideal for allowing the fitment of a bigger Tire & Wheel package, up to 33″ with proper wheels (we recommend you always test-fit tires & wheels).
This kit will enhance the look of the truck, giving it a more pronounced appearance, and also improve the ground clearance for off-road use. Other applications include: construction use, and compensating for the heavy drag from winches, snowplows or other front-end equipment.
All of our kits come complete with hardware, full instructions, alignment specs and dedicated technical support. Truxxx Lift and Level Kits are proudly made in the USA with only the highest quality steel.
Click HERE for more information.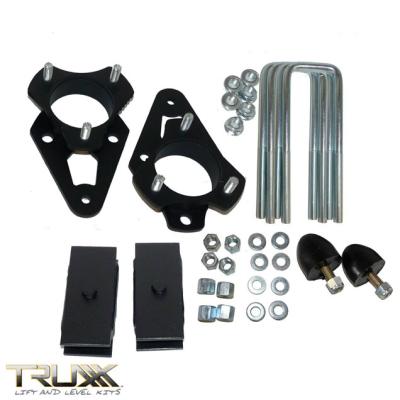 Low Range Off Road – 2009-2011 Suzuki Equator:
Low Ranger Off Road carries coil over shock kits, OME coil springs, Calmini control arms, struts and shocks for the Suzuki Equator.
The upper control arm is said to get rid of the annoying "clank" when the stock upper control arm contacts the coil shock mount on the frame. Calmini's replacement upper control arms correct this by providing extra clearance as well as extra length for correct Caster/Camber alignment after lifting. Made from 1.5″ x .188″ wall 1026 DOM tubing, our arms feature the use of OEM style bolt-on ball joint that provides increased misalignment for extra wheel travel as well as the safety of a double shear captured mount. Hi-impact externally greasable Nylatron pivot-point bushings give better handling feel than urethane by reducing deflection under hard braking and side loading. The kit comes complete with bushings, inner sleeves, and grade 8 hardware. Durable powdercoat finish.
Click HERE to see their offering of Suzuki Equator parts.
Performance Accessories Body Lifts:
Although Performance Accessories doesn't specifically list a body lift for the 2009-2011 Suzuki Equator, the Equator is built on the Nissan Frontier platform and essentially the same vehicle. That being said, the components should fit the Equator. A 3-inch body lift with one of the 2.5-inch or 3-inch suspension kits listed above could make for a nice looking set up. If you try this set up lets us know. It would be really interesting to see the results and find out if in fact it requires any modifications to fit.
Click HERE for Performance Accessories Nissan Frontier body lifts.