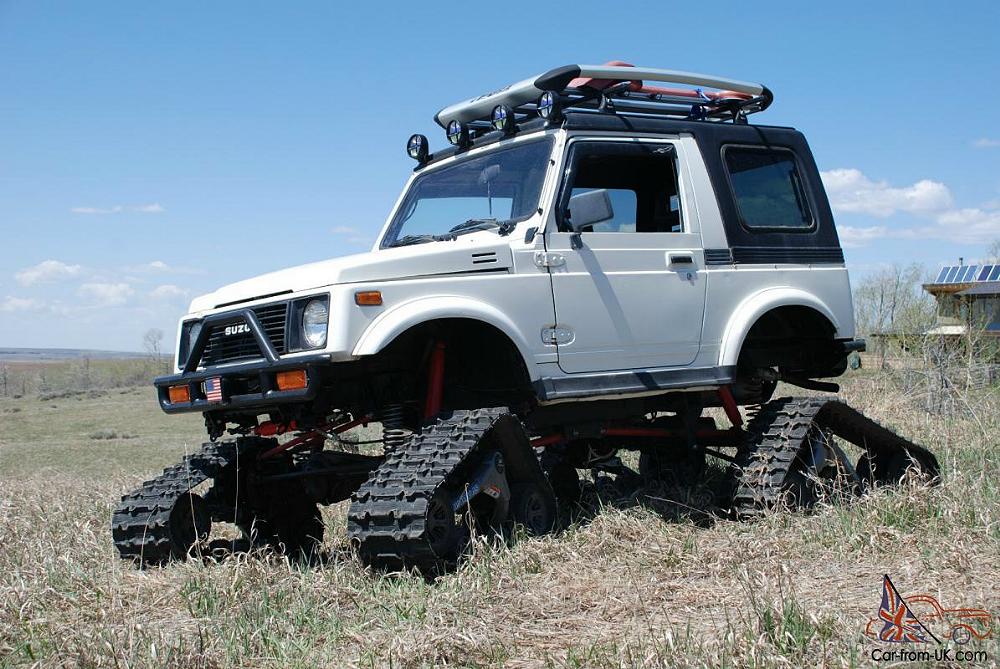 Ready for winter?
You would be if you had this 1987 Suzuki Samurai on tracks! This Samurai has definitely proven itself in the Teton Mountains of Wyoming and the eastern Idaho area
The Samurai features Camoplast Tatou 4s tracks on custom mounts, and a Rocky Tops fiberglass top for winter time fun.
Power comes from a 1.6L engine swapped in with a Trail Tough conversion kit. The rear axle was upgraded to a Trail Tough heavy duty rear end, and the front and rear axles have upgraded gears and Detroit Lockers.
The rear axle was upgraded to disc brakes, and the front uses wilwood disc brakes and calipers.
The Samurai rides on a Rocky Road 6-inch suspension system that uses links and coils instead of leaf springs. When there's no snow, the Samurai uses 33/15.50 Toyo Open Country MT's on 15×10 ION aluminum alloy wheels.
Other bolt on's include Trail Tough front and rear tubular bumpers, and a Thule roof rack with off-road lights.
Specifications:
1.6L engine swap
3-core radiator
Power steering
Trail Tough heavy duty rear axle
Rear disc brakes
Detroit Lockers
Warn Hubs
Camoplast Tatou 4s tracks / 33/15.50 Toyo Open Country MT's on 15×10 ION aluminum alloy wheels
Rocky Tops Fiberglass top
Thule Rack and cargo basket
Pioneer stereo system
100-amp alternator
Tuffy locking security console
Grant GT steering wheel
Receiver mounted 10,000 lb winch
Videos: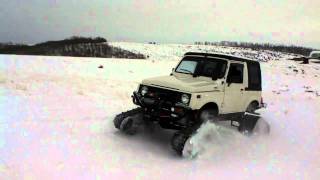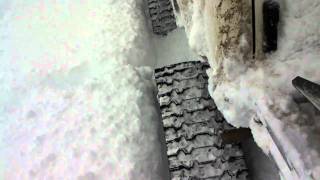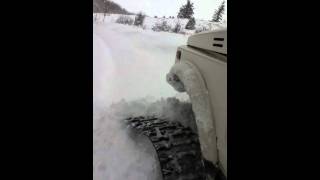 Photos:
Click the photos to enlarge – click the arrows to load more