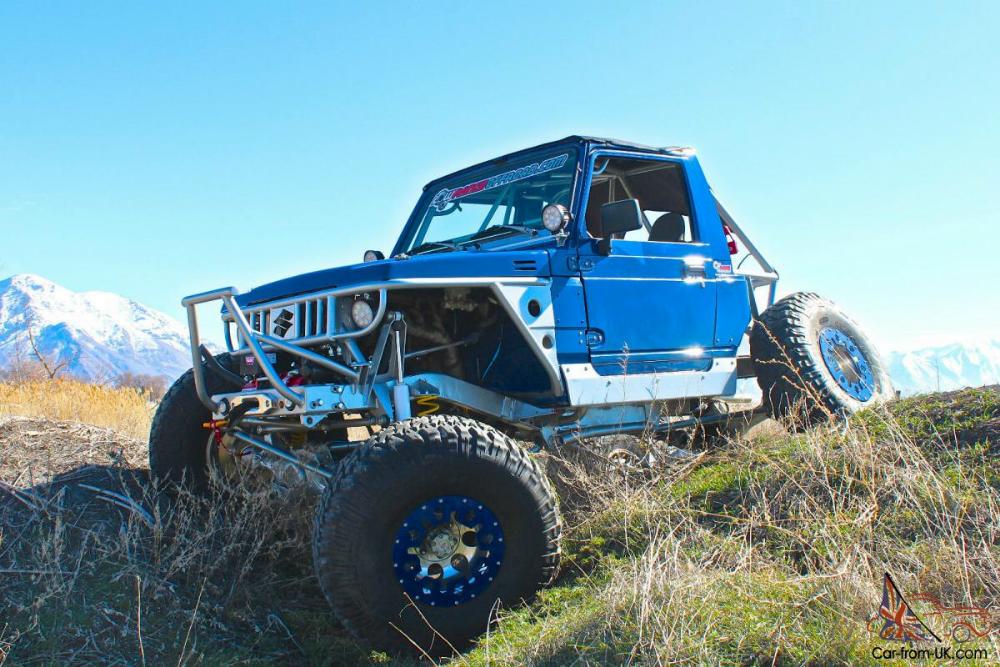 A customer named Terry McGinnis started this project in 2009. It was purchased from the previous owner for $400 after it had an engine fire. Terry decided to create the ultimate rock crawler. Receipts show that this 1987 "Sammy" has had about $25,000 worth of parts and labor not including the cost of the engine. transmission. seats and tires. The suspension is a Trail-Tough Trail Slayer Kit that was purchased from Low Range Off-Road. The power train has been enhanced with a 2.0L Geo Tracker fuel injected engine. 3-speed automatic transmission and a Low Range Built 6.5 Samurai transfer case with a Trail-Tough rear driveline disconnect. ARB Air Lockers. front and rear in Toyota Axles. finish out the drive train modification.
The body has been fitted with a custom tube front clip. custom bolt in roll cage and PRP seats. Everything; roll cage. frame. front and rear axles. etc. have been fully powder coated in a chrome-­‐like silver color. The modified body has been painted with a custom blue paint.
Sadly. Terry died of colon cancer in 2010 and the project sat dormant. in a garage. until mid 2013 at which time his wife decided to sell it. Low Range Off-Road purchased the project to finish and sell.
This is a Competition ready rig if that's what you want or it can just be your trail rig. Point it at any obstacle and you will not be disappointed.
This is an awesome rig!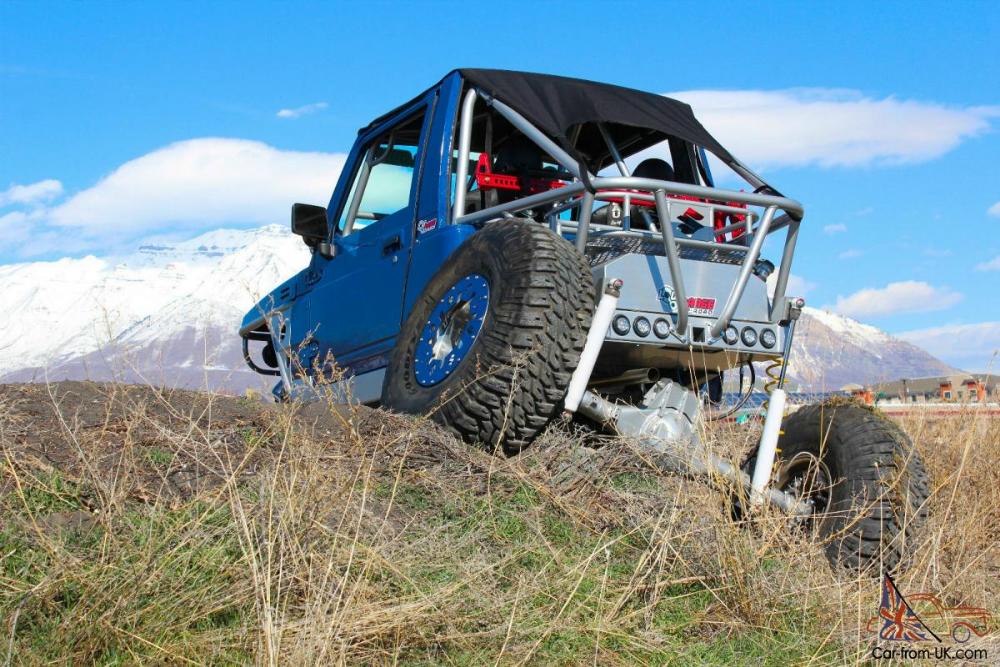 Specifications:
2. 0L 1999 Tracker Engine (Base 127HP @ 6000 rpm) with OBD2 Connection
Header type Exhaust Manifold with Heat Wrap
3 Speed Tracker Automatic Transmission with 15″ inch Rear mounted Heat Sync Cooler
TT Automatic conversion kit
Larger Tracker Brake Pedal
6. 5:1 Low Range Off-Road Built Samurai Transfercase
Evil Twin – Twin Stick Conversion for 2 Wheel Drive Low and True Neutral
Hi-Low and 2-4 Low Range Aluminum shifter knobs
Calmini HD Tcase Cradle
Trail Tough Rear Driveline Disconnect to allow "Front Digs"
Warn 9. 0RC 9000 Competition Series Winch
HD 1310 U-joint Drivelines
Toyota Axle Housings Front and Rear with Diff Caps and Steering Stop Gussets
Hi-Pinion Front 3RD with 5. 29 Trail-Creeper 5. 29 Gears and ARB Air Locker
4cyl Rear 3RD with 5. 29 Trail-Creeper 5. 29 Gears and ARB Air Locker
ARB CKSA12 Air compressor
Aluminum Single Core Oversized Radiator
13 inch Thermostatically Controlled Electric Fan w/ Dash mounted cutoff switch
Sidekick Power Steering Gear Box tapped for Hydro Assist
PSC 6″x1. 5" Hydro Assist Ram
PSC Aluminum Power Steering Reservoir
15 inch Heat Sync Power Steering Cooler
Grant 860 Satin Silver Steering wheel
PRP "Roadster" Bucket seats
Corbeau 3 inch 5 point Harnesses
Blue Gauge Face covers with LED Light Conversion
LED Front and Rear markers and blinkers
LED short distance driving headlights
LED long distance windshield mounted off road lights mounted on Sky windshield light brackets
Optima Yellow Top Series Battery
Low Range Off-Road ABS Interior Door Panels
Low Range Off-Road Aluminum Inside and Outside Door Handles
All New Door and Window Weather Stripping
New side mirrors
37″ Goodyear MTR tires
ProComp Aluminum Wheels with Custom Blue Powder-coated Suzuki "S" Rings
Longfield 30 Spline Front Axle Shafts
Rear Low Range Off-Road Disk brake kit
Vented front rotors with V6 Calipers
Trail Tough Trail-Slayer Coil Spring Suspension with 4 link rear. 3 link front
Poly Windshield
Low Range Windshield Wiper Brace
Low Range Cowl Fresh Air Intake Scoop
10W LED Rock lights at each corner
Blue LED Under Glow Strips
Fully Custom Build Bolt in Roll Cage with Frame Tie-Ins
Fully Custom Front Tube Clip
Fastback Bikini Top
Trail Tough Fiberglass Tub Cap
Fully Custom Rear Luggage Rack
42" Hi-Lift Jack with Adjustable Aluminum Tube Mounts and Handle Keeper
Fully Custom Bent "Boat Side" Sliders
Subaru Upgrade Brake Master Cylinder
Complete Frame. Links. Axles. and Cage was Fully Powder coated Satin Grey
Body was Professionally Painted
ZNO Billet Aluminum Removable Door Hinges
Poly Body Mount Kit
Stainless Steel Brake Lines
DGI Steel Radio Box with 2 12V Power Sockets
Sony Xplod CDX-GT56UIW w/ USB & AUX inputs. Detachable Face CD/MP3 Player
Low Range Off-Road Adjustable Quick Removal Door Strap Kit
Custom Switch Panel with Fan Cuttoff. Windshield Lights. Rock Lights. and Under glow Switches (still room for 2 more switches)
Measurements:
Center Frame Height – 19. 5"
Wheel Base – 100"
Total Length – 136"
Total Width – 70"
Total Height – 74"
Diff Clearance – 12"
Tire Diameter – 36"
Front Frame Height – 27. 75"
Photos:
Click the photos to enlarge – click the arrows to load more