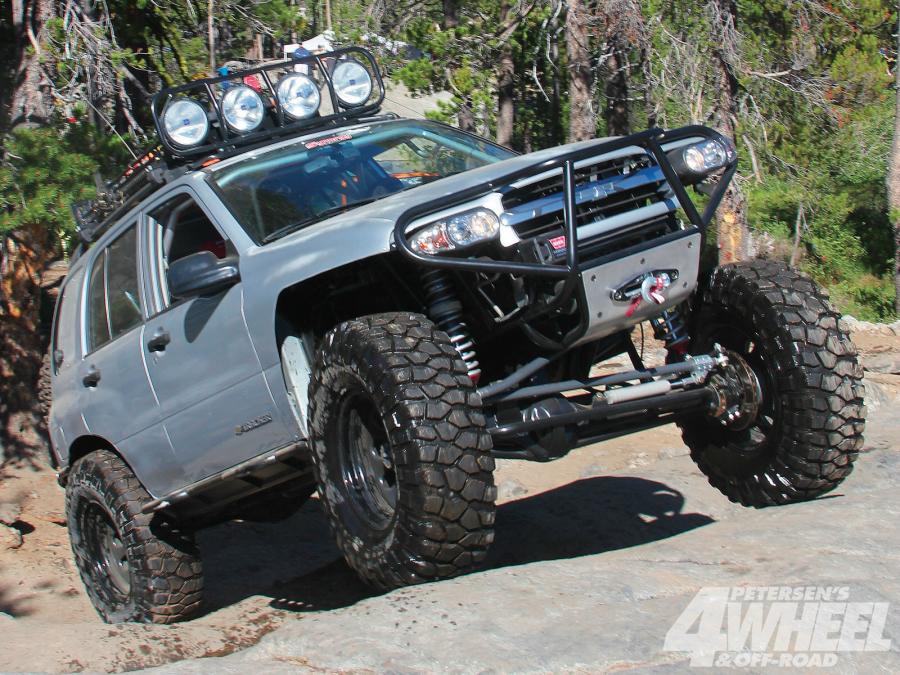 This tracker is small, nimble, and unique. The fab work is topnotch and mounted up on 37s. The small engine is at its limit when the Tracker is loaded with three people's gear and trying to haul down the highway, but off-road the gearing makes it crawl like a champ. Nonetheless we have a feeling Rob's next 4×4 will have a few more ponies under the hood, and may not even be a 4×4.
Rob Peterson's dad bought this Chevy Tracker new off the showroom floor, and Rob was there when it happened. The truck served his dad well, and eventually he offered it to Rob as a fuel-efficient daily driver. Little did he know that son Rob couldn't leave good enough alone.
Rob is the suspension engineer at Synergy Suspension. This company specializes in Jeep and Ram truck suspension kits as well as custom builder parts for the guy who wants to modify his 4×4 beyond a bolt-on kit. Rob is that type of guy. Prior to inheriting the Tracker he had been passed the keys of a Ford Ranger from his grandfather. Before long that truck was sporting long-travel desert suspension, a full cage, new racing seats, and fiberglass body panels. Grandpa's truck was built to go fast and jump big, and it did just that through years of abuse with Rob at the wheel. But eventually it was time for a refresh, so the Ranger got torn apart only to sit idle for a while.
When the Tracker came into Rob's possession he realized it had many attributes of the new Jeep Wrangler (body on frame, four doors, peppy little engine), but not only did it stand out from the crowd of Jeeps on the trail, it was also paid for without requiring a monthly check to the loan department. There was the small problem of the little sport/ute only having rear-wheel drive, but if a custom suspension was in its future then a 2WD-to-4WD conversion couldn't be much more work.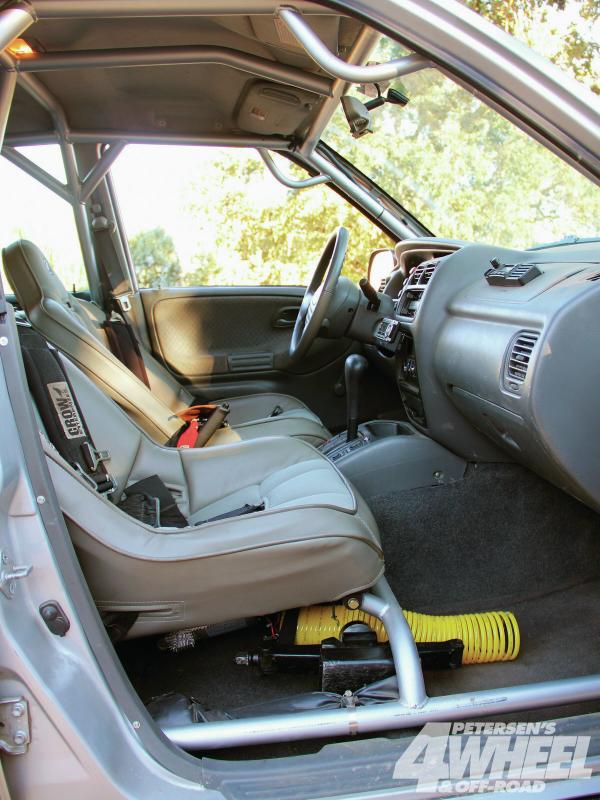 The interior of the Tracker was made to be comfortable and livable on both dirt and asphalt. Corbeau seats, satellite radio with Bluetooth, race radio, and working heat and air conditioning make the tracker more than your average rough and tumble trail machine.
Rob isn't just an engineer; he is also an experienced fabricator, and the work on this machine shows it. He didn't really start his build plan with a rockcrawler in mind; rather, he wanted a fun little 4×4 to take him to the mountains for snowboarding until he could devise a plan to return to his go-fast desert truck roots. Oddly enough, the time and energy thrown at this little "commuter" truck has resulted in a vehicle of ultrahigh caliber—maybe not a go-fast, desert racing, trophy truck, but definitely a Trophy Tracker.

The back seat is a single Corbeau bucket mounted to the cage, as are the front seats. The factory fuel tank we retained but brought up through the floor to improve the departure angle and make room for the rear axle. The aluminum box separates the tank from the occupants, and the eight-point cage protects them in a worst-case scenario.
Under the hood of the '99 Tracker is the stock 2.0L four-cylinder. The engine bolts to the original automatic transmission and features some intake modifications. The engine bay is packed with tubing from bumper to shock mounts to cage, along with a custom trans cooler mount and steering reservoir. That silver box with the two black fittings is actually a prototype heat exchanger for a new Synergy onboard hot-water camp shower.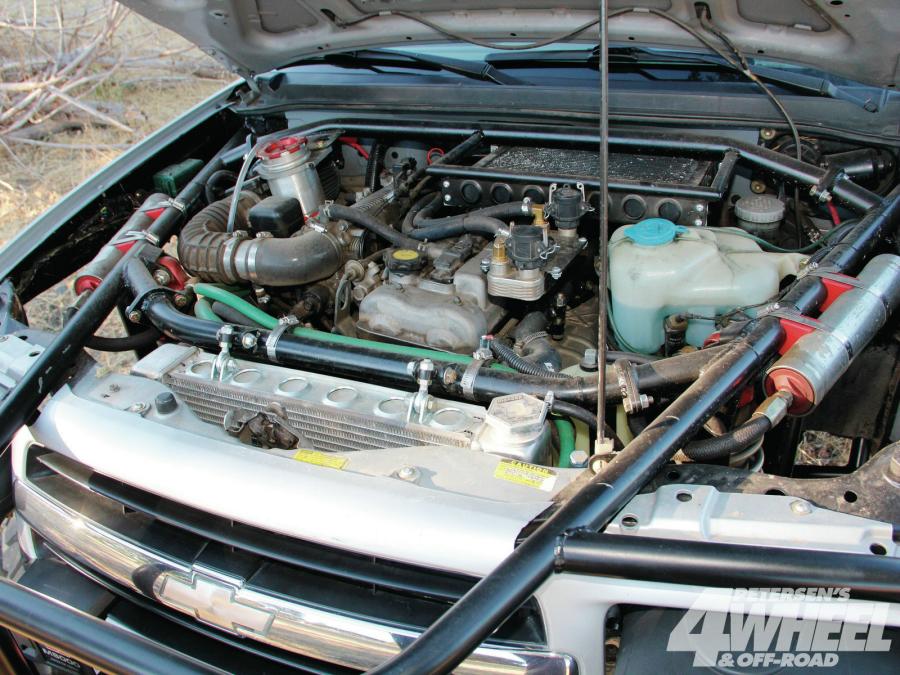 The front and rear axles are trussed, geared, and locked as well as powdercoated for longevity. The rear suspension is also on coilover shocks but this time with a triangulated four-link.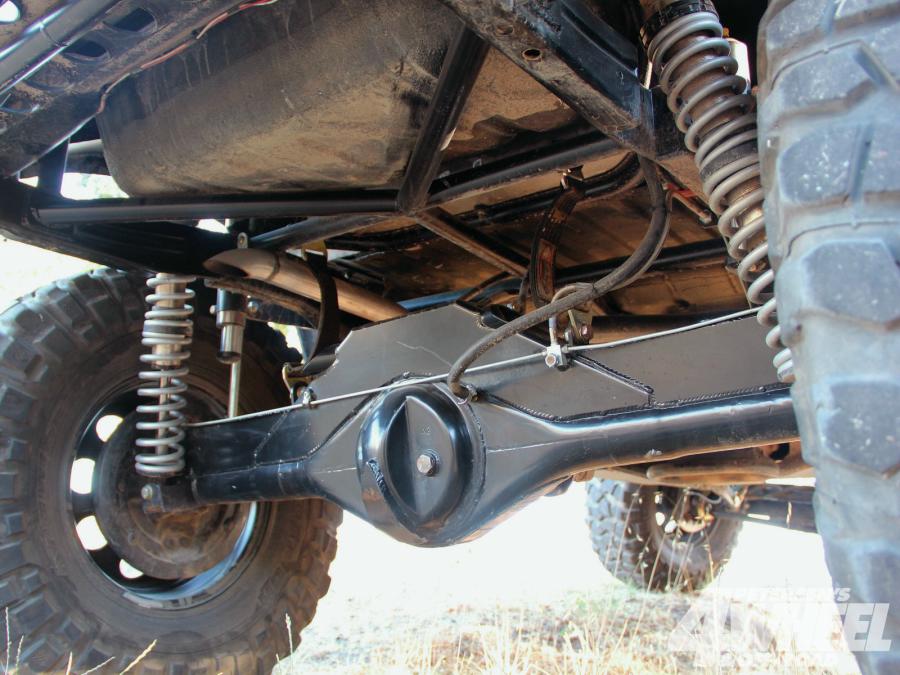 Behind the automatic transmission is a divorced Suzuki transfer case with 6.5:1 low range gears, all protected by a custom belly skidplate. These gears combined with the low weight of the truck and 4.30 gears in the axles allow the small four-cylinder to crawl well on 37-inch BFGoodrich Krawlers.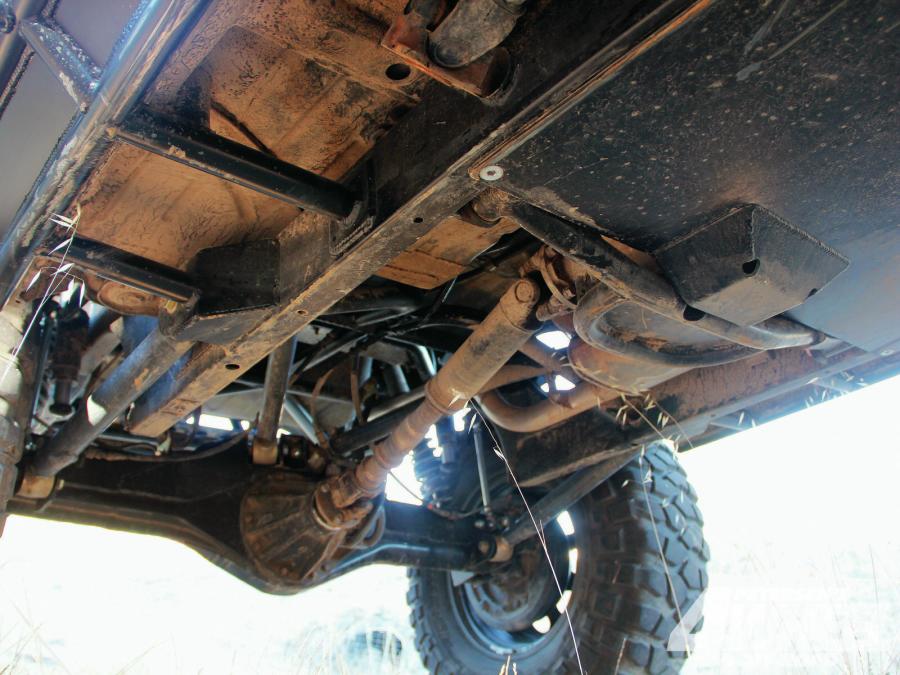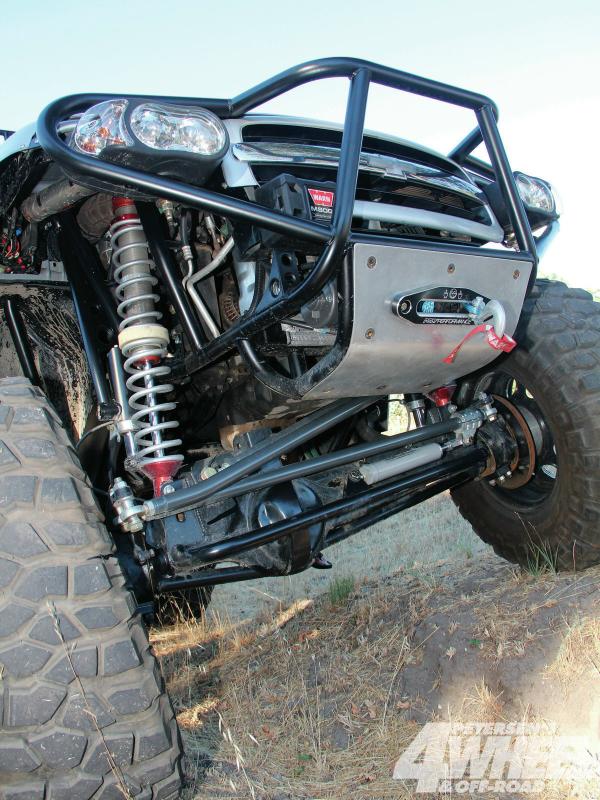 From the engine mounts forward the frame was chopped off and replaced with tubing. This allows perfect mounting locations for the ram-assisted Toyota steering box and custom three-link with Panhard bar front suspension. Above the front Toyota axle are 12-inch Sway-a-way coilover shocks and Fox racing air bumpstops.
1999 Chevy Tracker Specs:
Drivetrain
Engine: 2.0L DOHC 4-cylinder, custom eBay intake mod
Transmission: Stock 4-speed automatic, Setrab Trans Cooler
Transfer case: Samurai case, 6.5:1 gears
Front Axle: Toyota, 27-spline Longfields, Elocker diff with stock 4.30 gears
Rear Axle: Toyota IFS housing, Poly Performance 4340 forged chromoly shafts, Elocker diff with stock 4.30 gears
Suspension
Springs & Such: Front, custom 3-link/Panhard setup, 21⁄2×12-inch SAW coilovers, 2.0 Fox air bumpstops; rear, triangulated 4-link, 2×10-inch Edelbrock coilovers, 2.0 Edelbrock air bumpstops
Tires & Wheels: 37×12.5×17 BFG Krawlers on 17-inch Black Rocks
Steering: Hydro-assist w/ Toyota IFS drilled and tapped box, PSC 6-inch Ram
Other Stuff: Caged bumper to bumper, Corbeau seats, Crow harnesses, Bluetooth and satellite radio, carpet, working heat and A/C, onboard shower, Viair compressor, onboard spare 3rd member, roof-mounted Baja basket, light bar w/ 4x Hella 9000s
Resource: Fourwheeler
Tags: The Trophy Tracker