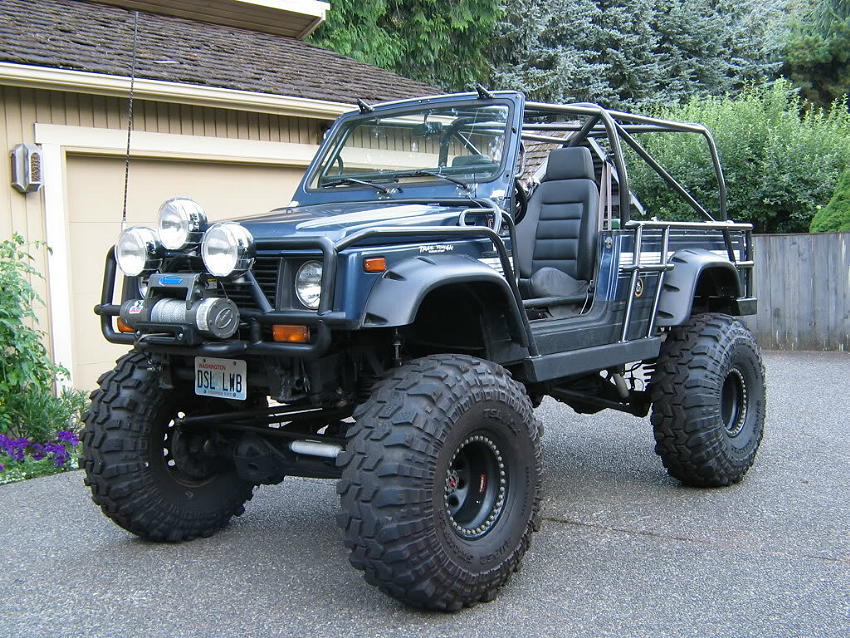 Many hardcore Samurai owners have stretched out their wheelbase to make them longer, and more capable on the trail. But did you know that the Samurai came as a long wheelbase? While the stock Samurai has a short 80-inch wheelbase, the long wheelbase (LWB) Samurai came with a 94-inch wheelbase, making it more appealing to experienced offroaders.
The problem is that they were sold in Canada, and not here in the United States.
Here is an excellent example of a 1987 Suzuki long wheelbase samurai that's been modified for offroad.
Modifications:
1984 Toyota 2.4 liter 2LT Turbo diesel motor
1984 Toyota 5 speed tranny, t-case with Marlin 4.70 low range gears
1983 Toyota front axle, 5.29 gears, ARB locker and high pinion 3rd member, Longfields, vented disks with four piston calipers
1983 Toyota rear axle, 5.29 gears, ARB locker, V6 3rd member, Front Range full floater kit with 4140 axles, disk brakes with four piston calipers
FJ80 master cylinder and power booster with proportion valve
Toyota IFS power steering
Reneck Ram hydro steering
Sky manufacturing high steering
Marlin 4.70-1 transfer case (98 to 1) with dual sticks
Custom four link rear three link front coil suspension
38.5 x 14.5 x 15 SX swampers on Marsh racing 36 bead locked wheels
Full herculined tub and partial exterior
Autometer gauges in the 5 vent holes
Extrememaire compressor with 5 gallons of onboard air
Custom rear bumper, 2×5 gallon gas carrier, rear Ramsey 8000lb winch
Custom rocker skids
Trail Tough front bumper with Ramsey 9500 Patriot winch and IPF lights
6 point DaveSport full cage, and exo portions
Corbeau sport seats
Trail Tough fold down windshield
Cut door hinges for door removal
Custom soft top
15.5 gallon gas tank
TrailTough fender flares
Centerforce dual friction clutch
Amsoil bypass filter
Flex-a-lite electric fan
200 amp battery isolator
One optima red top
One optima yellow top
Cobra CB
Photos:
Click photos to enlarge.
Tags: Long Wheelbase Samurai