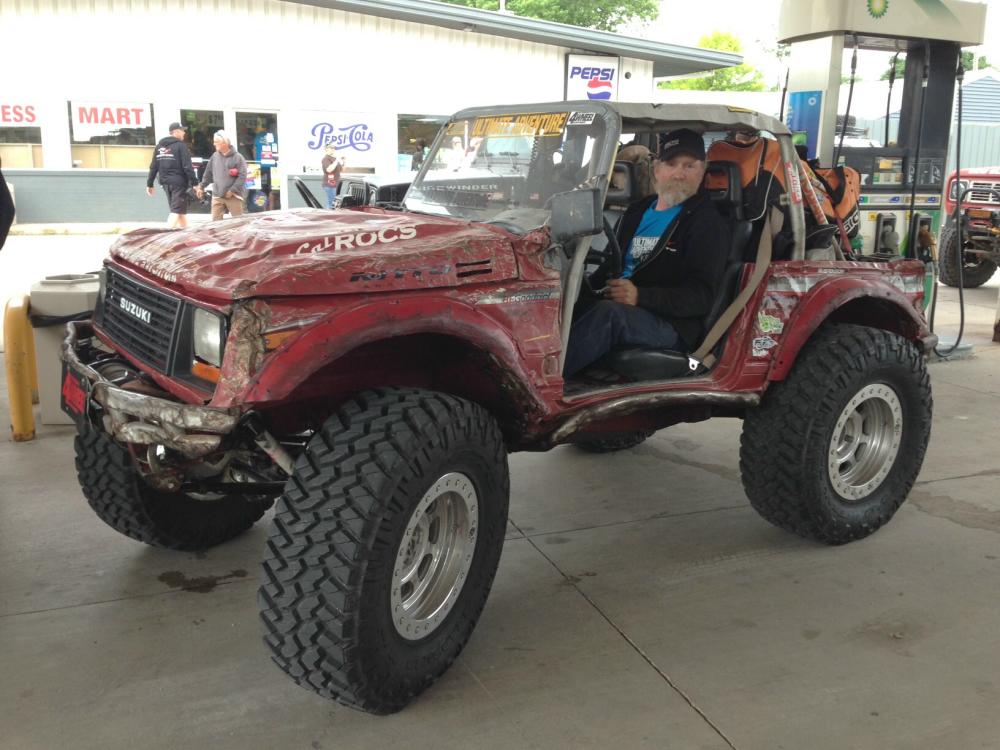 In the world of Suzuki Samurais, there isn't a bigger name than Tim Hardy. He didn't receive that title by building the most over-the-top 'Zuks, but rather by taking moderately, and often cleverly, built-ones and doing amazing feats. He is known for showing us the first 'virtual lift' by fitting 35-inch tires on a Samurai by cutting and moving the wheel openings up higher on the body line. He has also been known to 'cut' his own gears in his shop at home using a standard cutoff wheel. He is also the one that first used a gear reduction driveshaft made from a forklift unit to drop his gear ratio from the transmission to the transfer case. He is likely one of the smartest and most inventive problem solvers on the planet, and a downright nice guy. He's been a long-time Top Truck Challenge judge and continues to be a top-notch wheelman.
If you've seen any coverage of 4-Wheel & Off-Road Magazines 'Ultimate Adventure', then you've likely seen this beat up red Samurai. In fact, Tim Hardy has been in the following Ultimate Adventures:
2004 – 1988 Red Suzuki Samurai
2005 – 1988 Red Suzuki Samurai
2006 – 1988 Red Suzuki Samurai
2007 – 2000 Suzuki Grand Vitara
2008 – 1988 Red Suzuki Samurai
2009 – 1987 Blue Suzuki Samurai
2010 – 1988 Red Suzuki Samurai
2011 – 1987 Blue Suzuki Samurai
2012 – 1988 Red Suzuki Samurai
2013 – 1987 Blue Suzuki Samurai
2014 – 1988 Red Suzuki Samurai
2015 – 1988 Red Suzuki Samurai
But before the Ultimate Adventure, Tim participated in the 1995 Top Truck Challenge (TTC) in his Suzuki Samurai. He wowed judges and competitors alike with his 1987 Samurai and matching trailer, which made events like the Tank Trap and Mud Pit look easy. Tim went on to become a TTC judge.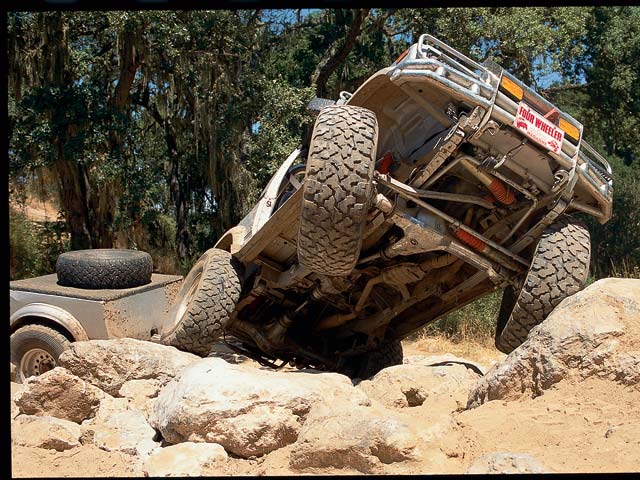 According to Fourwheeler Magazine:
For Top Truck 1995, our third attempt to find the best 4x4s in the country, we had a late cancellation and needed to find a 10th contestant. Our feature editors had seen an amazing Samurai crawling the rock trails of the southwest and invited Tim Hardy to join our party. As far as Samurai builders go, it's tough to top Tim.

Although the motor remains stock, Tim built his own 4.6:1 Rock Lobster transfer case and unique 3:1 underdrive that combined with the 5.12:1 axle gears to give him 90:1 gearing. Now, to the naked eye, the axles on Tim's ride seem like stock Suzi parts. However, in an effort to create the ultimate in durability, Tim used everything from Mustang 5.0 axleshafts and Subaru Birfields to (and we're not making this up) his own cable locker for both diffs to build his axles.

At the Engineering judging, we marveled at Tim's front-wheel center caps that locked his hubs with one twist. They're also waterproof. To get an idea of how meticulous Tim is with his buildups, consider that his front-axle skidplate is 53 pieces of aluminum welded together and polished on both sides.

A spring-over using a combination of Samurai springs and Nitro Cell shocks provide elevation for the 35-inch Yoko Mud Diggers.

Just in case you're wondering, Tim towed that trailer (equipped with hydraulic disc brakes) through every event at TTC that year and ended up coming in Second Place overall.
When Tim built his Samurai it was a head of its time. Lower than most, wide for its size, and light. While guys continue to build over the top vehicles with Huge axles, Tim still hangs with guys in his Samurai with a Suzuki engine and axles. He's been known to drive his Samurai great distances to wheel it, when others haul their rigs on trailers. If it breaks, he just fixes it and continues on. There's no spot tight enough to phase Tim. Places that would scare a normal person to even walk through, are par for the course for the guru himself.
Probably the most impressive thing isn't all the unique things he fabbed on his Samurai, even though he built parts well before companies offered them, but the fact that he has wheeled the red Samurai so hard for so many years, and he's still wheeling it! How many people do you know that have taken such a basic rig and accumulated so many hard core trail miles, and continue to beat on it many years later. I mean, this guy built a hardcore Samurai and placed 2nd in the 1995 Top Truck Challenge. Where were you in 1995?
Tim Hardy's Suzuki's:
Red 1988 Suzuki Samurai: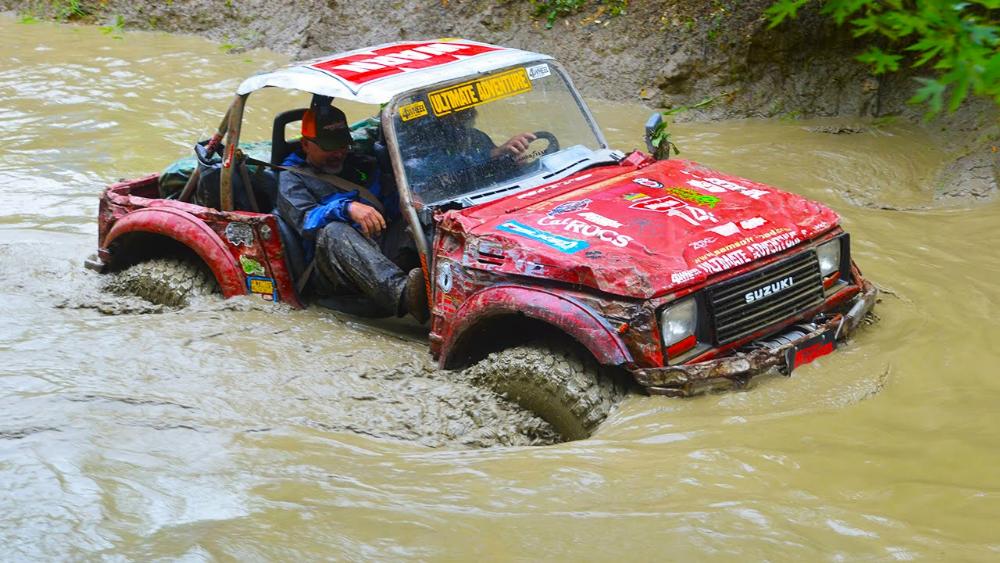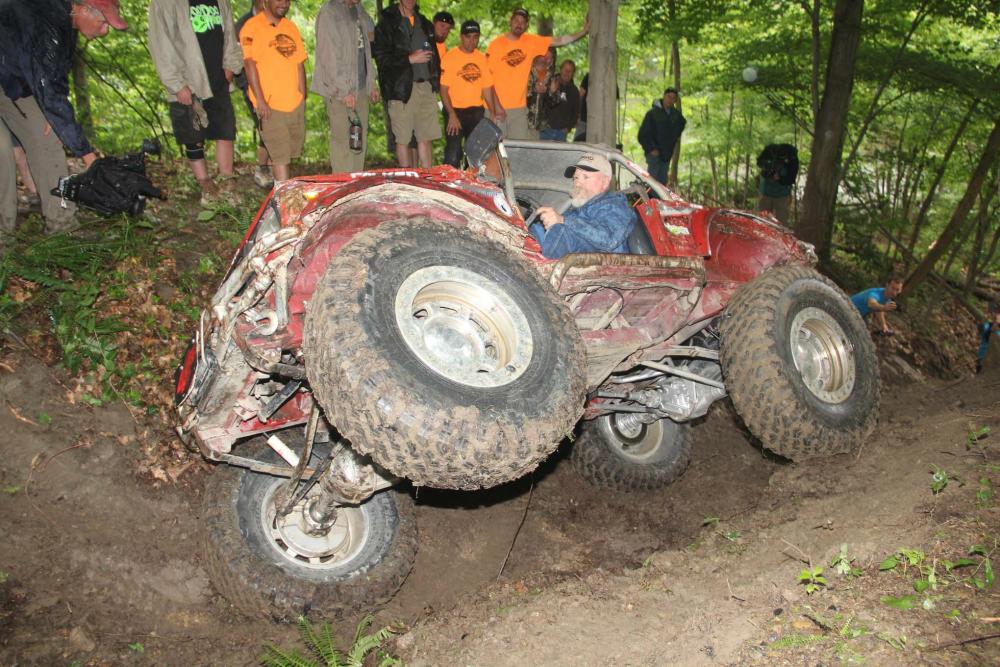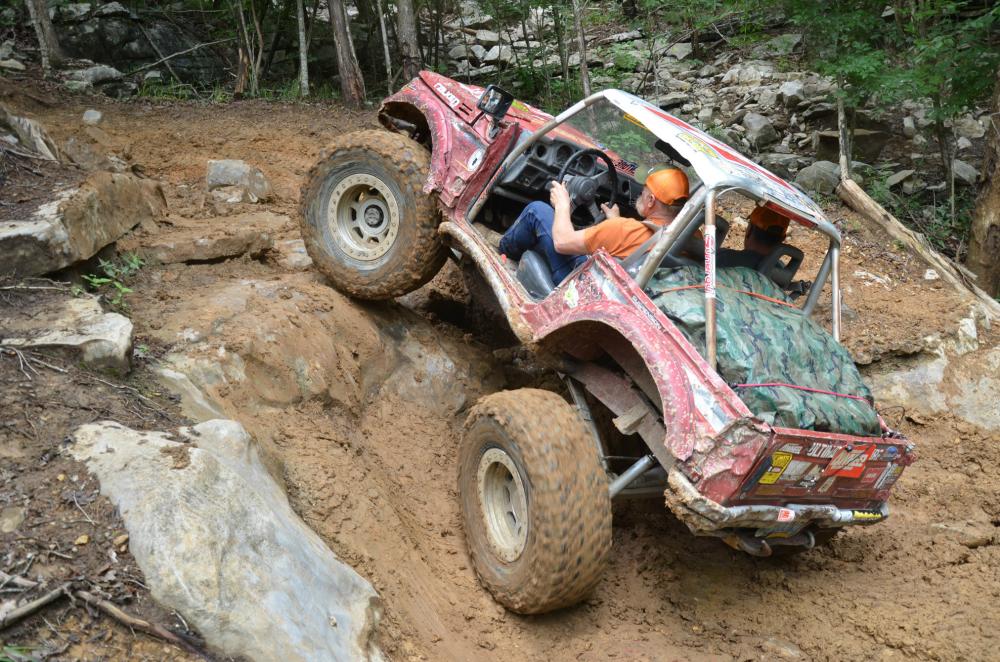 Tires/Wheels: 35-inch BFG Krawlers/15-inch aluminum American Racing
Steering: Toyota steering box, S-link
Front suspension: Rear leaf springs, shackle reversal, 3-1/2 inch frame extension, narrowed track, moved 1-1/2 inches forward
Rear suspension: Quarter-eliptic leaves, moved 1-1/2 inches forward
Front drivetrain: Stock housing, Detroit EZ Locker, 5.12 (Sidekick) gears, LAC Birfields, Dutchman inner axles, Tim Hardy-made 26-spline outer shafts
Rear drivetrain: Sidekick center section, EZ Locker with Ford side gears, 31-spline Ford axles
Driveshafts: Custom 82AC Birfield with chromoly shaft
Tranny: Stock five-speed
Transfer case(s)/ratio(s)/other mods: 4:1 Hardy-made
Engine/Mods: 1.3L, match-ported carb, intake, and head
Bumpers/rails/rollcage: 1-1/2 inch and 2-inch 0.120-wall tube
Winch: Warn 5000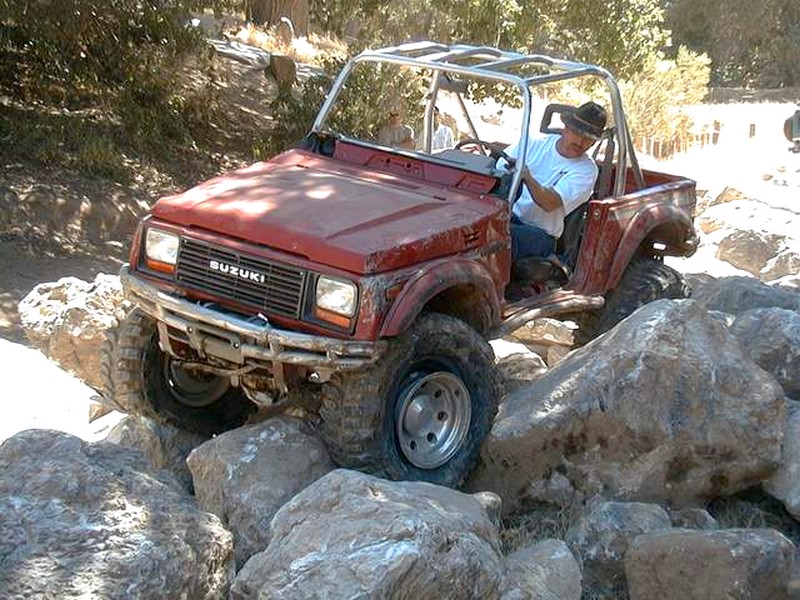 (Just how long has Tim wheeled this Samurai….)
Blue 1988 Suzuki Samurai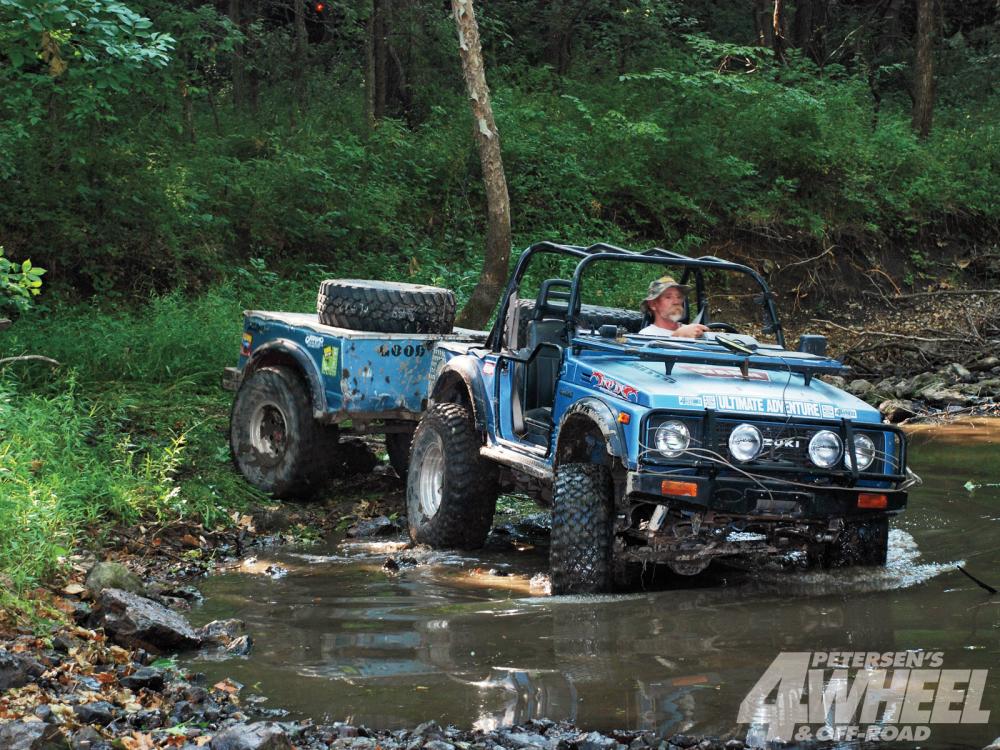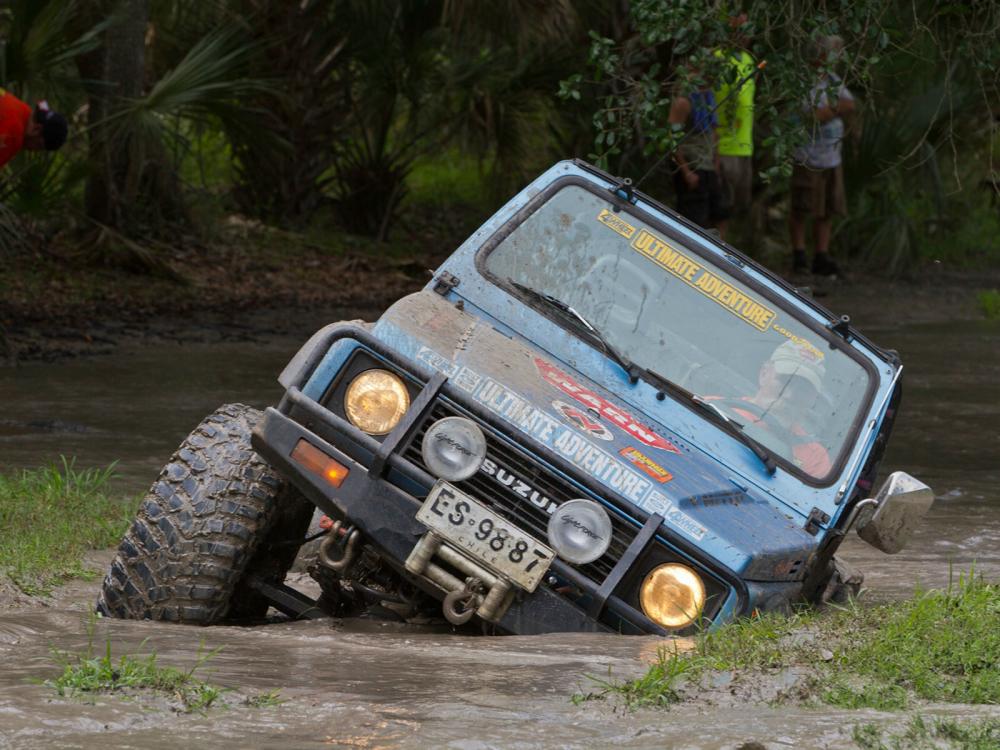 Engine: Stock
Transmission: 5-speed
Transfer Case: Stock with a custom low-range gearset
Axles: EZ Locker, 5.12 gears
Springs & Such: Spring-over with Rancho shocks
Tires & Wheels: 35-inch BFG M-Ts custom grooved on 15-inch aluminum wheels
Other: Custom Samurai trailer on 35's that hauls enough spare parts to build an additional Samurai
2000 Suzuki Grand Vitara: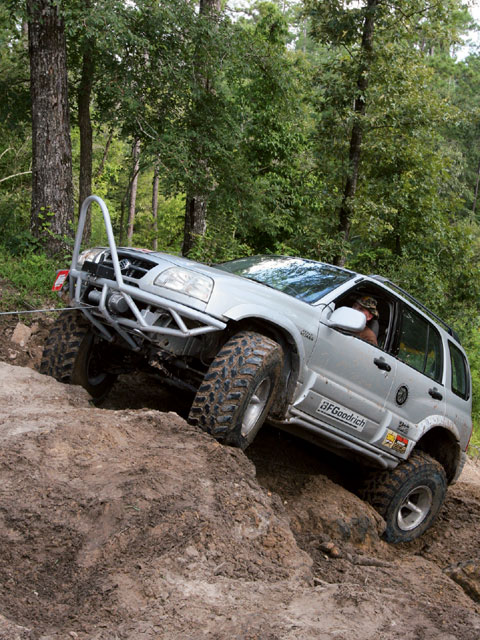 Engine: 2.5L V-6
Transmission: Factory five-speed
Transfer Case: Samurai 2.1 case mated to the factory case
Front Axle: Factory housing with modified stock air locker, 5.12 gears
Rear Axle: Factory with custom side gear and 31-spline axleshafts, Detroit EZ Locker, 5.12 gears
Steering: Factory
Suspension: Custom 5.5-inch lift
Tires & Wheels: 35-inch BFG Baja T/A on 15x10s
Other Stuff: Warn 6,000-pound winch, custom front bumper and sliders
A Few Notes on Past Parts:
Gears: Tim uses 5.12 Sidekick gears (common now, but pretty well revolutionary when he built his).
Rear Axle: The rear axle was made from a Sidekick center section that used Ford side gears and axle shafts from a Ford Mustang.
Front Axle: The front axle had Subaru Birfields, and Tim also used the Subaru Birfield joints on the driveshafts instead of U joints.
Cable Locker: Tim use to run his own custom built cable actuated locker
Underdrive: Tim Hardy used a 3:1 underdrive using a planetary set that took the place of the driveshaft between the transmission and transfer case. However, there was no way to shift it out, so he had to install it at the trail head and take it out before hitting the road again. The underdrive was basically made up from a planetary output from a forklift axle. Once installed, it basically gave you a lower crawling ratio similar to having a dual transfer case setup.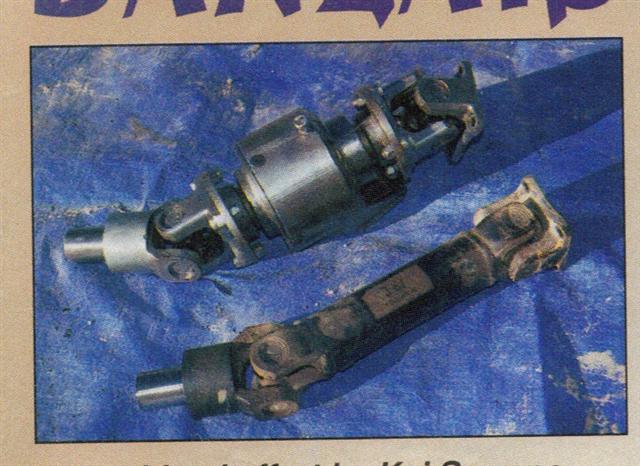 So, if you're running a stock transfer case and 5.12 gears you get
1st Gear = 3.652
Stock X-Fer Case = 2.268
Stock Ring & Pinon = 5.12
Stock Samurai Low Range
3.652 x 2.268 x 5.12=50.11 final ratio
Samurai Low Range with Tim's Under Drive = 3.1
3.652 x 3.1 x 2.268 x 5.12=131.46 final ratio. That's a huge jump and enough gearing to turn those 35-inch tires on the trail.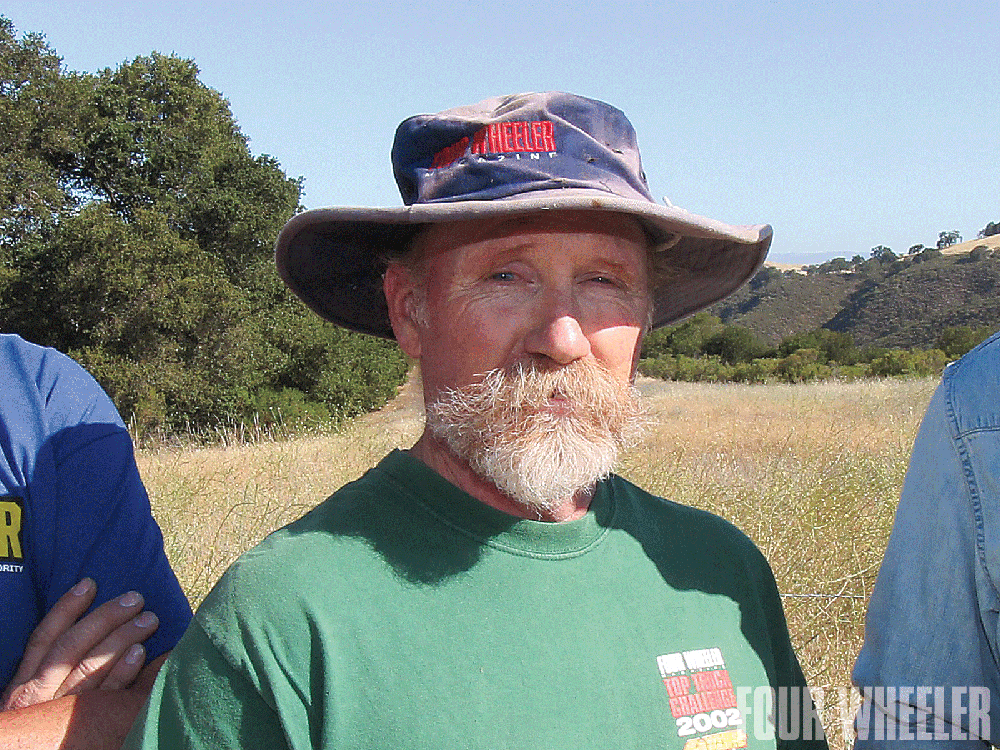 (Tim Hardy – Suzuki Samurai Guru)
Video:
Here's an interview with Tim Hardy….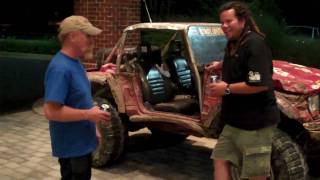 Photos:
Click the photos to enlarge – click the arrows to load more
Tags: Tim Hardy - Samurai Guru