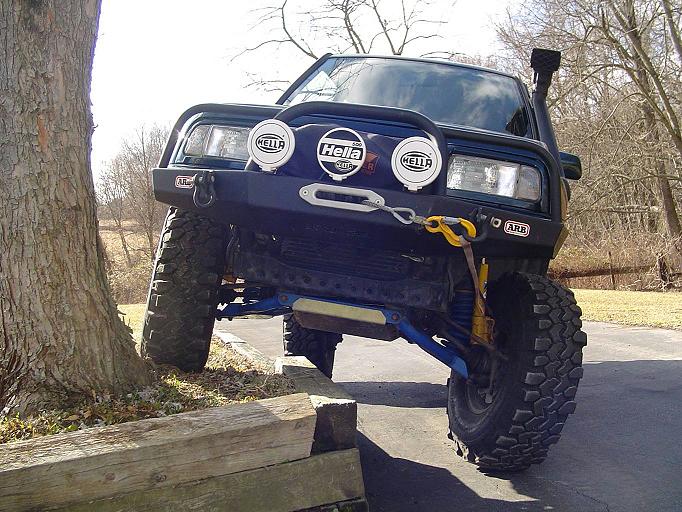 Owner:
Brian Olowiany
Vehicle:
1995 Suzuki Sidekick
Suspension: 
Calmini 3-Inch Modified
Old Man Emu Long Travel Struts
Doestch Tech long travel rear shocks with  Pro-Comp upper shock mounts
Body Lift: 
Masterkit1 3-Inch Body Lift
Engine: 
1.6L 16Valves of Fire Breathing Hamsters
Steering: 
Sky Manufacturing HD Idler Arm
Calmini Steering Stabilizer/Truss
Tie rod flip
Old Man Emu Jeep TJ Steering Stabilizer
Tires: 
Super Swamper LTB 34×10.50×15″
Rims: 
15×8 Custom built Eaton 32 bolt beadlock (can be run either beadlocked or standard mounted
Exhaust: 
Calmini 2-Inch Turbo Cat Back w/Magnaflow catalytic converter
Differentials: 
ARB Airlocker Front with 5.38 Ratio 
Lockrite Rear Locker with 5:38 Ratio
Driver CV on passenger side
Hubs: 
WARN Premium with Fuses
Transfer Case: 
4.24:1 Trail Tough Rock Monster Gears
Front Bumper: 
Shrockworks winch bumper with Milemarker E9000 winch Amsteel Synthetic winch line, aluminum hawse fairlead, XD heavy duty winch hook.
Rear Bumper: 
Custom built with 2-Inch receiver, and shackle tabs
Lighting: 
9004 HID conversion for headlights
H3 HID conversion kit for Hella 500's
Intake: 
Safari Snorkel with drop-in K&N in OEM airbox
Undercarriage Protection: 
Calmini Front Skidplate
Tracker OEM T-Case Skid Plate
Interior:  
Full Heruliner coated (carpet removed)
Pioneer CD system
Mounted fire extinguisher
Mounted Maglite.
Other Accessories: 
Custom Hi-Lift/Shovel rack
ARB On-Board Compressor for Airlocker, Tools, Filling Tires
Optima Red Top with Spidertrax battery tie down
Cobra CB with Firestik II antenna.